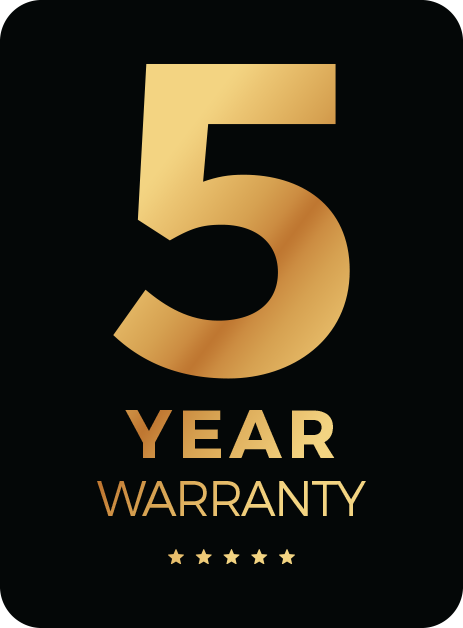 NEW LINE OF PIR AND DUAL-TECH (PIR + MW) DETECTORS
SLIM-PIR-LUNA
detects motion in the protected area. Additionally, the detector has a set of LEDs to implement the lighting feature.
Product Characteristics
compliance with EN 50131 requirements for Grade 2
motion detection using passive infrared (PIR) sensor
adjustable sensitivity of detection
digital motion detection algorithm
digital temperature compensation
option to enable/disable the creep zone protection
wide-angle lens, designed specifically for SLIM LINE detectors
option to replace the wide-angle lens with the curtain (CT-CL2) or long-range (LR-CL2) one
ability to configure detector operating parameters using the OPT-1 keyfob
built-in end-of-line resistors (2EOL: 2 x 1,1 kΩ / 2 x 4,7 kΩ / 2 x 5,6 kΩ)
lighting feature implemented with white LEDs
remote lighting control or motion activated lighting capability
LED indicator
selectable color of the LED indicator (7 colors available)
LED indicator remote enable/disable
remote switching between two levels of PIR sensor sensitivity
configuration mode remote enable/disable
supervision of motion detection and supply voltage circuit
tamper protection against opening of enclosure and removal from mounting
adjustable mounting holder (BRACKET D) included
One enclosure, many devices
Elegant, slim enclosure is made of high quality plastic.

Uniform appearance of all detectors installed in the premises makes
it difficult for an intruder to identify the specific model used in the system
because all of them look the same.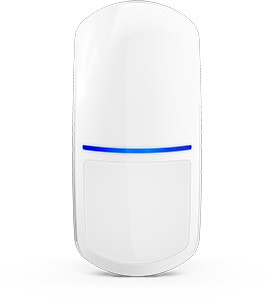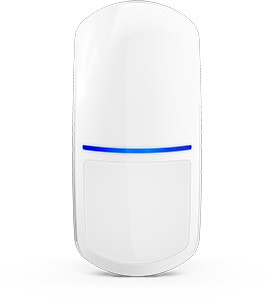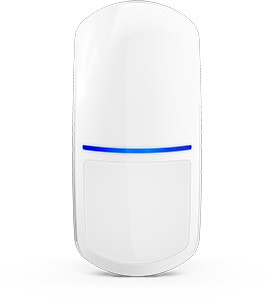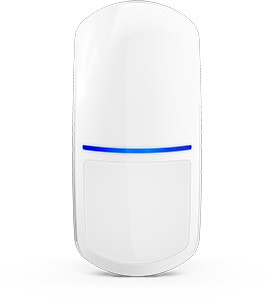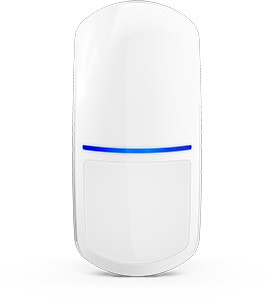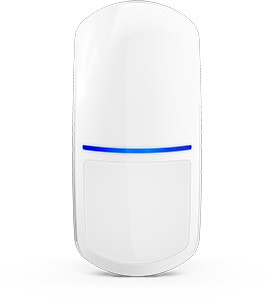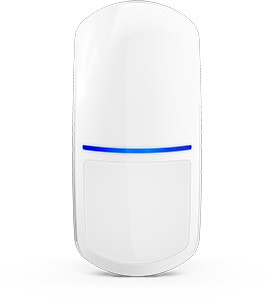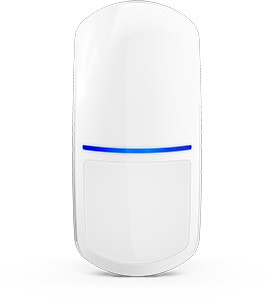 SLIM-PIR · SLIM-PIR-PET · SLIM-PIR-LUNA · SLIM-PIR-LUNA-PET · SLIM-PIR-PRO
SLIM-DUAL · SLIM-DUAL-PET · SLIM-DUAL-LUNA · SLIM-DUAL-LUNA-PET · SLIM-DUAL-PRO
Reliable motion detection
A unique lens
Each detector
c
omes with a modern lens designed and manufactured in
Japan – specially for SATEL. It provides a very large detection area with
dimensions up to 20 m x 24 m and 90° viewing angle.

Japanese Optics Coverage Area Detection Angle
20x24m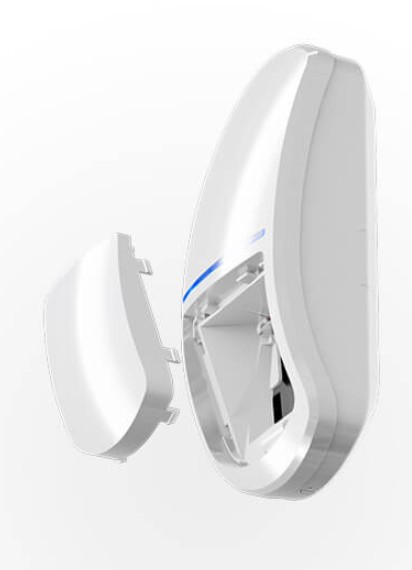 Design of the lens, as well as the material of which it was made, make it exceptionally resistant to deformation.
New motion detection algorithm
Many years of experience in the production of motion detectors and the use of the latest technologies made it possible
to develop an advanced new generation algorithm of motion detection. Because of it, SLIM LINE detectors ensure
reliable detection of intruders throughout the entire monitored area, without triggering unwanted alarms
Digital temperature compensation
SLIM LINE detectors dynamically adjust the motion detection algorithm to changes in ambient
temperature, so these changes do not affect the effectiveness of the detectors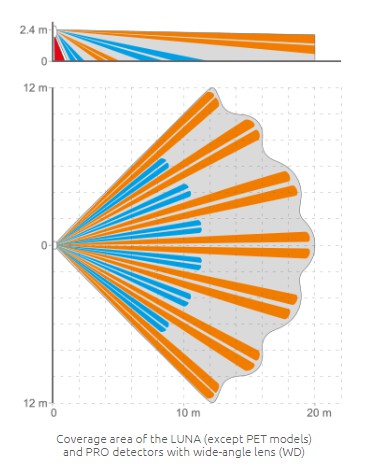 See a presentation of SLIM LINE detectors
Quick lens replacement
As you can easily replace the complete front part with the lens, the SLIM LINE detectors* can be quickly and conveniently customized
to suit the needs of the premises, e.g. to the shape of protected room. The wide-angle (WD) lenses are fitted as standard, but curtain (CT)
and long-range (LR) lenses are also optionally available
* except for PET detectors