SKU:
NETCELERO-i-spi-N500


The i-spi is the nifty Netcelero plug and play device. You simply plug it into your Starlink or 4G router (or existing DSL router) for secure and superior quality connectivity. A light weight device, the product is shipped directly to you and is instantly deployable. Once plugged in, i-spi gives you a static IP and four port forwards. Simply select your NVR and it is ready to go! The i-spi is also a super solution to secure remote connections for older generation recorders that might not have P2P and/or are on outdated firmware/software that may leave your site vulnerable.
A compact and clever piece of hardware.
Support from an expert team of technical engineers
Video tutorials 12 month phone and email support contract
50GB Monthly Data over Netcelero provided Public IP address
Up to 4 port forwards per i-spi device
Device subscription is not activated until device is added to your account
Peace of mind in a box!
Why Choose the i-spi?

There are many reasons why our clients choose the i-spi.
In most cases they have sites that need to be monitored
remotely. The static IP and four port forwards offer a smart
solution for immediate access to cameras. If there is an
issue on site, the sophisticated Netcelero software creates
a secure tunnel to access the NVR, so any problems can be
simply solved remotely. All you need is any internet connection
and simply connect, click, view. for real-time virtual access
using the unique Netcelero Analytics Portal










With three modes of operation to cover all scenarios
Secure With three modes
Secure connection to a site over an easy to set up VPN -
no need for port forwards. Ideal for vulnerable systems
Lite
Designed for System Integrators where the remote
monitoring

centre requires port forwards
Hybrid
A mix of both Lite and Secure, providing monitoring
ARC's

with access as well as secure VPN access for
System Integrators
The i-spi is a powerful tool that is always working for you. Once your i-spi is set up, the Netcelero dashboard is fully integrated with Sentinel and Immix CCTV monitoring software ensuring all critical alerts are received and can be acted on immediately. The i-spi improves your customer care by quickly identifying problems on site. The device will tell you what needs to be done to restore access to a camera and what or who is to blame. If you are a monitoring company, it means that you can identify and resolve the issue without disturbing your customer.

CCTV systems are notorious for suffering from cyberattacks. Because the i-sPi operates parallel to onsite equipment, it does not interfere with the existing network. You still have access to your onsite equipment remotely, but it is secure and protected. Traffic filtering by region and IP address, is enabled with smart geo locking and source IP white listing. This means that it restricts access to IP addresses of the country you are in only. The i-sPi simplifies a reliable remote connection to any CCTV system and blocks hacks in the process. You have peace of mind that connectivity to the monitoring system is safe, fast and that data is accessible in real-time.


Why Remote Monitoring Companies love the i-spi


Remote monitoring is critical to effective prevention
of crimethrough CCTV, meaning connectivity is critical
to achieving that goal. How many times have you as a
monitoring company had to contact a client to say that
you have no remote access to their NVR? How many times
has the client blamed your systems as their "internet" is fine.
How much time has been wasted working with the client
and the CCTV installer to work ut where the issue is? At
Netcelero we listened to our Monitoring Company Partners
and we understand your pain, so we built the i-spi is to solve
this problem for you. Below we have set out how the i-spi
provides you with intelligent insights to avoid or mitigate
these scenarios. So, the next time a client asks why you were
unable to monitor their site, the i-spi will give you its AI based
analysis of the event.

Loss of Connectivity
This can happen for several reasons and knowing exactly why, enables you to communicate the issue clearly to the client, or even specify the changes the CCTV installer needs to make. Below are the common causes of outages and how the i-spi handles them. Issues are reported to your i-portal, but you can also configure the i-spi via the i-portal to send SMTP notifications into Sentinel and IMMIX directly. This allows you to access the information from your ARC systems.

Loss Of Power
The i-spi tracks time using NTP servers. When it powers up, it automatically runs self-diagnostics and logs a message to the events log in your i-portal alerting you to the reason it was offline and duration of the no power issue. So, if you lose connectivity for three hours due to power, the i-spi will always be able to tell you it was a power issue.

ISP Internet Down
If the ISP Internet connection is down, the internal network will all be working, however the route out to the internet will be down. When the pathway to the i-spi core is cut off, the i-spi guardian system automatically runs diagnostic checks to see what it can communicate with – the NVR, the ISP Broadband, it checks if it has an IP and the status of the cable connection. It then makes an intelligent assessment and reports the issue, once it is back online.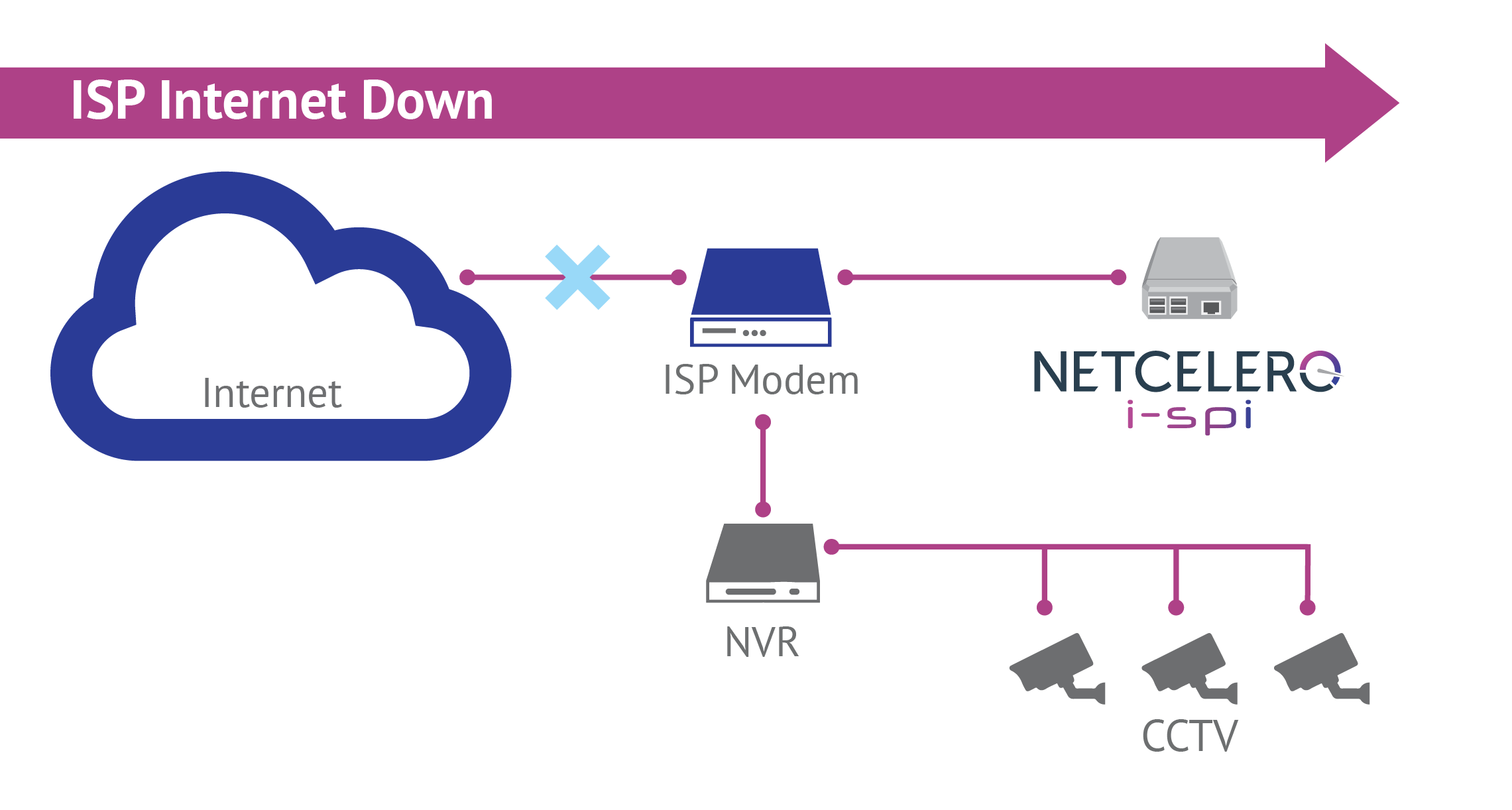 ISP Change or Router Change
When an ISP changes, the modem is often swapped out or factory reset. This is always problematic as the client will rightly say "my internet is fine", but two things are likely to have happened: the port forwards have been removed and the subnet range may very well have changed. The i-spi does not require port forwards so that is not an issue, however the subnet change affects you, as the NVR is normally on a static IP address and therefore the NVR will no longer be accessible on the local network.
The i-spi solves this problem for you, as the guardian switches to DHCP to get the CPE back online, then creates an interface alias for the old IP range, to allow connectivity to the NVR via the i-spi instantaneously getting the NVR back online for monitoring.
The i-spi then reports the issue that needs addressing to you, so the NVR can then be remotely reconfigured to the correct subnet, saving an unnecessary site visit.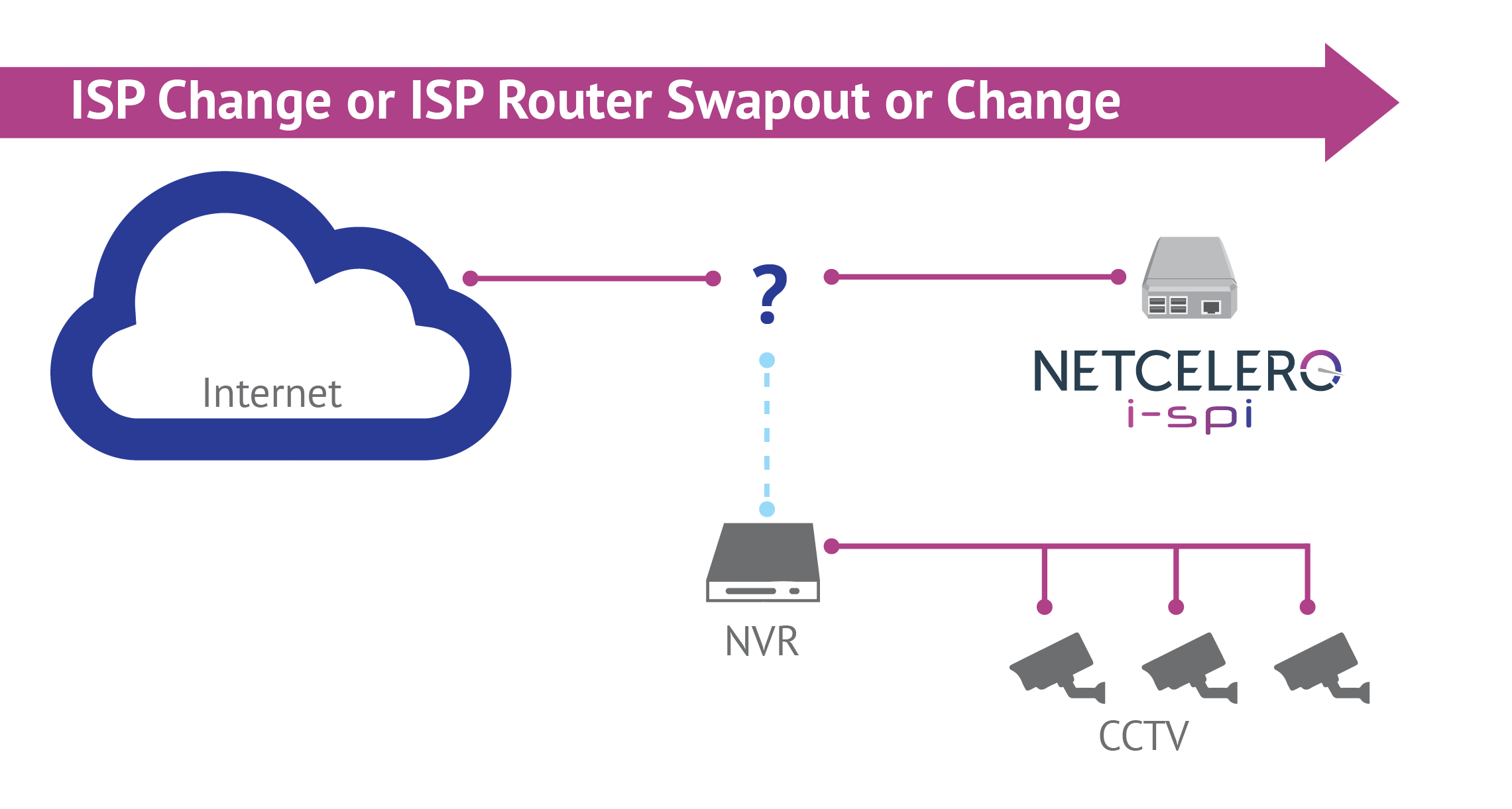 Intermittent Local Connectivity Issues
This happens a lot and is well known for driving monitoring companies crazy! The NVR isinstalled with a static IP, but the DHCP pool of the router overlaps with the static IP. This overlap causes the device in the DHCP pool (for example a smart phone) to fight with the NVR over the IP, resulting in intermittent unexplainable outages of connectivity. The i-spi's guardian listens for the tell-tale ARP packets that this situation generates, and intuitively creates a static ARP IP binding to maintain connectivity via the i-spi. This is reported to your i-portal, as the issue needs to be proactively addressedby the client.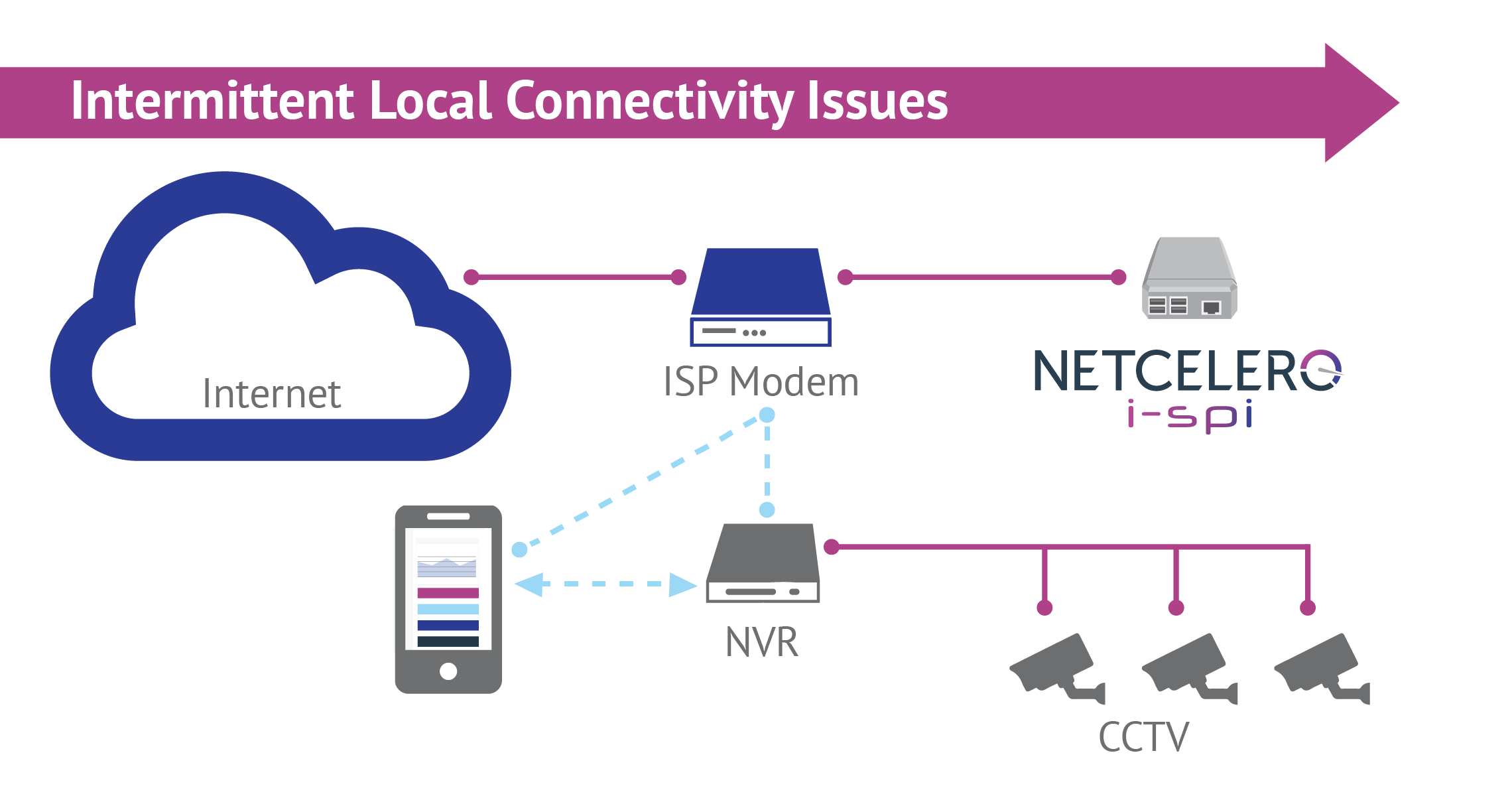 NVR Factory Reset
Has an NVR factory reset ever caused you to lose connectivity? If this happens, the i-spi creates an IP alias so that you can connect to the NVR and set it back up again. Simple and quick, saving an unnecessary site visit.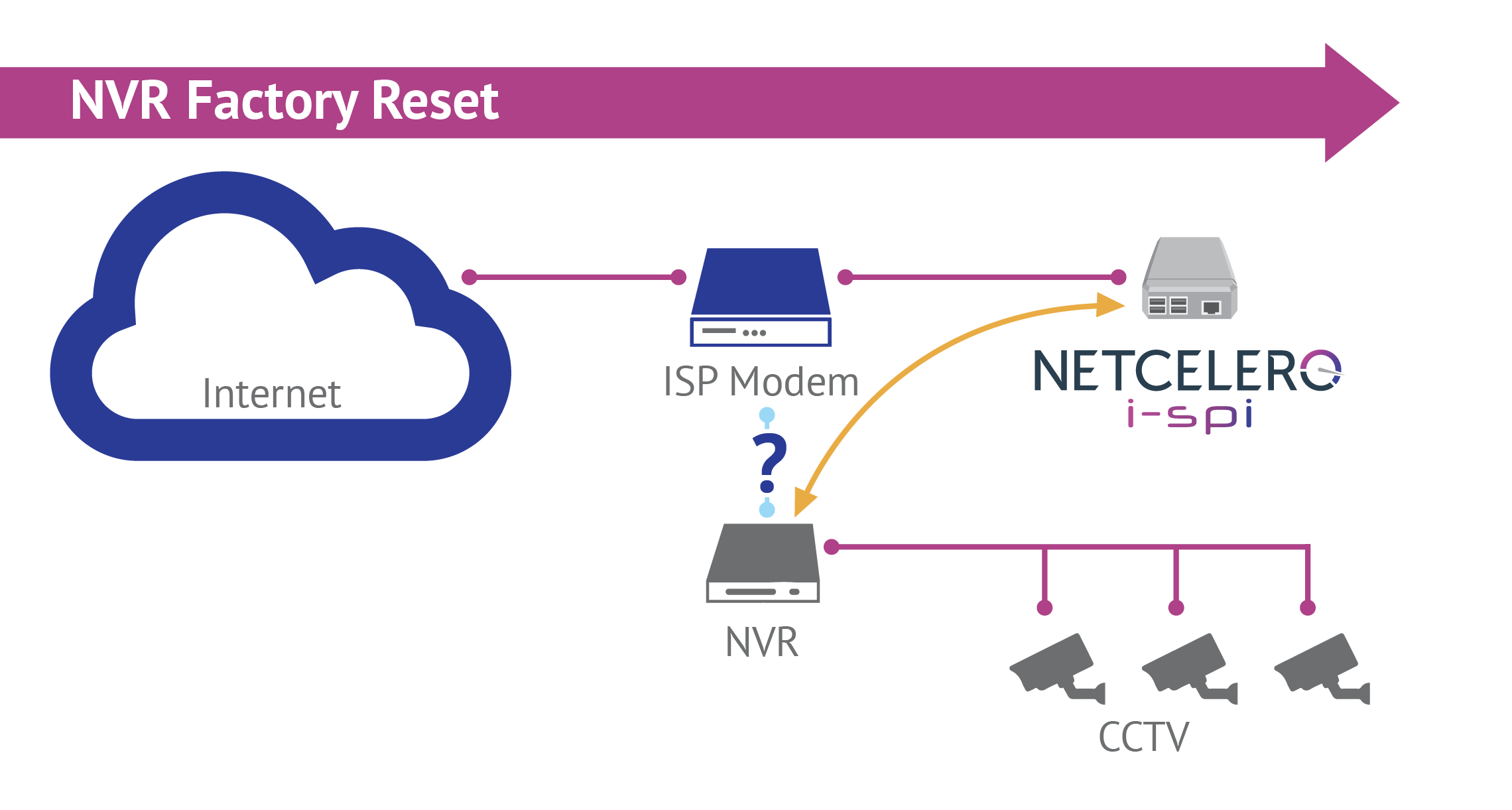 Grading of a Connection
Identifying exactly why there is a 'poor' quality stream can be difficult. The i-spi monitors the latency of the connection, back to our core network. If there is congestion on the ISP, the latency will rise, this is then used to 'score' the connection. This grading can help identify if the ISP has a congestion issue or whether the poor-quality stream is due to the end user device. This intelligence means the issue can be resolved faster.

If in doubt, just ship it out
If you have a client with an issue, send them the nifty i-spi device – all they have to do is plug it in to the power supply and their ISP modem – and it's online straight away giving you access to their NVR via two paths, the previous set up and now the i-spi. You can then use the i-spi to diagnose the problem, while remaining connected – this is what we mean by the i-spi being in parallel to your network. And you now have full visibility of exactly where the issue lies, saving an unnecessary site visit.

Why CCTV Installers love the i-spi



We understand that your expertise is installing CCTV
systems, and you don't always have the time to try and
figure out your client's broadband password or sit on
hold trying to talk to their ISP. The i-spi is designed to
sit in parallel within their network, guaranteeing you
and the monitoring company simple, secure, and
effective remote access

Zero Touch Install
You simply need to plug the i-spi into the ISP/4G modem and power it up. It uses DHCP via the ISP modem and creates a connection to our cloud. That is all that is needed on site – you can easily configure what the i-spi connects to from within your i-portal. No need for port forwards, dynamic DNS setups or modifying your client's ISP router.

Stop going to site to just power cycle a camera
A dead camera feed? You don't need to travel to site for that anymore. Simply connect via VPN to your PoE managed switch and toggle the port to power cycle the camera. The camera has reverted to its factory config? The i-spi will provide an IP alias so you can regain access to your camera remotely, immediately.

Remotely and securely connect to all cameras and ip switches on site
The i-spi is designed to allow deployment of an Open VPN server with a simple point and click, so you can access the web gui of all your cameras (not JUST your NVR), giving you control all of those extra camera settings. This secure remote access saves you unnecessary site visits to simply upgrade a camera.

Help Protect with your system with i-spi Geo Lock Feature
Your port forwards have a country-based geo lock, meaning only IP addresses from your geography have access…a UK site will only be accessible from a UK IP, for instance…no more scans from China, Russia and beyond. If you want to lock the site down further, you can do that simply via your i-portal.

Loss of Connectivity
This can happen for a number of reasons and knowing why enables you to communicate the issue clearly and quickly to the client and the monitoring company, and make any changes that need to be made. Below are the common causes of outages and how the i-spi handles them.
Issues are reported to your i-portal, but you can also configure the i-spi via the i-portal to send SMTP notifications into Sentinel and IMMIX directly, allowing the monitoring company to access the information from their ARC systems also.

The technology behind the device offers significant benefits

4 NAT ports to an internal device from a static public IP.

A
n in-built static IP with no need for a costly, unreliable and complicated work around.

Camera and issue specific alerts sent directly to your monitoring centre via email.

Full integration of alarms with industry leading monitoring software such as Sentinel, IMMIX and many others

Global platform and applicability with scalable visibility.

Low latency - British devices connect to British data centers, Irish devices to Irish data centers.

Superior internet speeds with reliable 4G connectivity thanks to the static IP.

Zero downtime with remote camera log-in for any reboots or reconfiguration.

In depth site specific or network wide data analytics.

Enterprise level security accessibility at an affordable price point.

Operator and technology agnostic.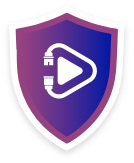 The web-based dashboard offers real time visibility A static ip is available across all connections, even if Netcelero easily slots into an existing infrastructure
of every single connection, all in one place and you're ony using 4G. Access to virtual networks and without the need for major network changes, lengthy
automated alerts help you stay one step ahead other servies have never been easier. reconfigurations or costly downtime.